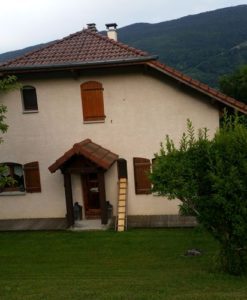 Cannelle [Cinnamon] was RouXy's mum. She used to live on the other side of the village. She was very young when she gave birth to RouXy. We haven't seen her for about two years so we suppose she must have died. And there is often another cat near Cannelle's Masters' house.
Cannelle's Masters have found a solution for the new cat (*) to come in and out of the house without a flap. Look at the photo.
(*) Well, we don't know how Cannelle would go in and out of their house.